The morning after: The sky isn't falling for the Oregon Ducks
Washington's in the driver's seat now, but Oregon's not far behind.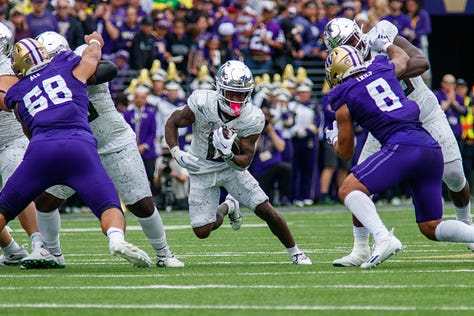 SEATTLE — The sky isn't falling for Oregon, even if the clouds parted just long enough Saturday afternoon for the Ducks to get soaked with a shower of Purple Rain.  
When the throng of purple poured out of the stands and onto Alaska Airlines Field after a thrilling victory, it wasn't merely an extravagant commemoration for the outcome, rather an appreciation for a ticket that far eclipsed its price tag.  
After Washington/Oregon delivered a show last season in Autzen Stadium, the two top-10 teams outdid themselves in a 36-33 Huskies win in what was the most-anticipated meeting in a century-plus old rivalry.
The Ducks and Huskies are the class of the country's deepest conference. Washington's in the driver's seat now; of the Pac-12, of this rivalry of late. But Oregon's not far behind. 
Everyone else, meanwhile, may be miles in the rearview. No. 10 USC fell 48-20 to No. 21 Notre Dame in South Bend. No. 19 Washington State's hot start has been buried with back-to-back weeks of poor offensive outputs and a pair of losses, the most recent coming in ugly fashion, 44-6, to Arizona. No. 16 Utah still doesn't have quarterback Cam Rising healthy. 
There's a lot to like about the Ducks' performance, despite its standing as a second-consecutive last-minute losing effort against these Huskies. 
"Sometimes you put it all out there and it's not enough," said Oregon quarterback Bo nix, who more than held his own in a battle of Heisman hopefuls alongside Michael Penix Jr., "and it's frustrating, but that's part of life. Sometimes in life you're gonna get knocked down. You may get fired from a job. You may lose a sale, but it's not like you're going to go out there and sell something else. This is a great learning lesson for us."
This post is for paid subscribers